My baby.  My 11 pound, 4 ounce, 23.5 inch long baby turned 6 on Wednesday.  SIX!  I'm still trying to wrap my head around that one. 
Disney has their "free on your birthday" thing going on this year and Kali wanted to go to Epcot.  She and I spent the day there, and the others headed off to Sea World with their passes.  Free on your birthday isn't exactly free if you're paying for 4 others to go. 
I took over 300 pictures, but I promise not to put them all up here.  I'll try to find our favorites and see if I can't tell you about our day, too. 
Spaceship Earth.  This turned out to be Kali's favorite thing.  There's a really, really slow ride through it that takes you back to the beginning of time up to the present.  Since we're doing Story of the World for history this year, she thought this was really cool.    Plus, at the end you get to pick your future out (where you want to live, what you want to grow, etc.) and they put your face in it.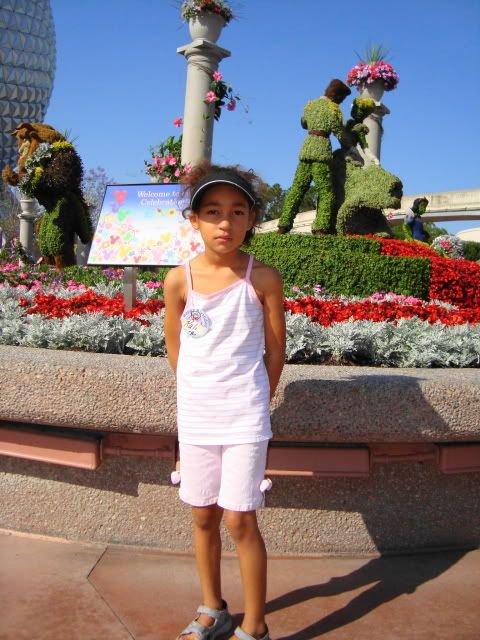 It's also time for the Flower and Garden Festival at Epcot (cough*cough Grandma!).  There were flowers everywhere!  All the characters were constructed from flowers.
It's about this time in the morning that we realize summer has arrived in full force.  The high that day was 92.  Nothing like baking in the heat on your birthday.  See that button on her shirt?  She was not happy about it.  Disney gives you a birthday button and then all day long, people are saying happy birthday to you and stopping you.  Kali hates attention.  HATES it.  The button quickly moved to the bottom of her shirt, and then later on, ended up on my bag. 
Just because it was pretty.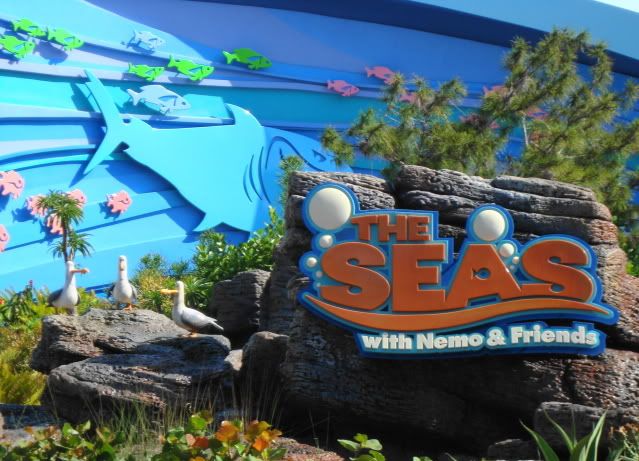 We went over to ride the Nemo ride.  It was so darn cute.  After that we went to see Turtle Talk with Crush.  OMG, if you ever get the chance to do that, do it!  It was hysterical.  Alex would have loved that one.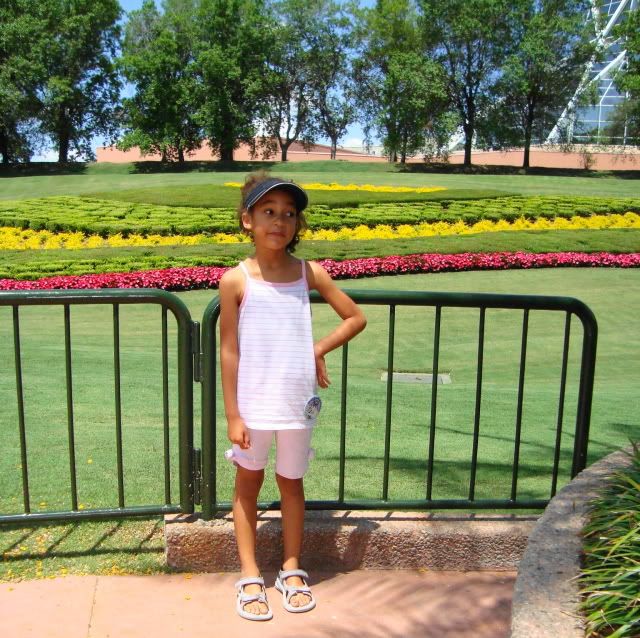 Mommy, I'm melting!!!!!
Talking to Grandma on the phone and staring at all the candy in the store.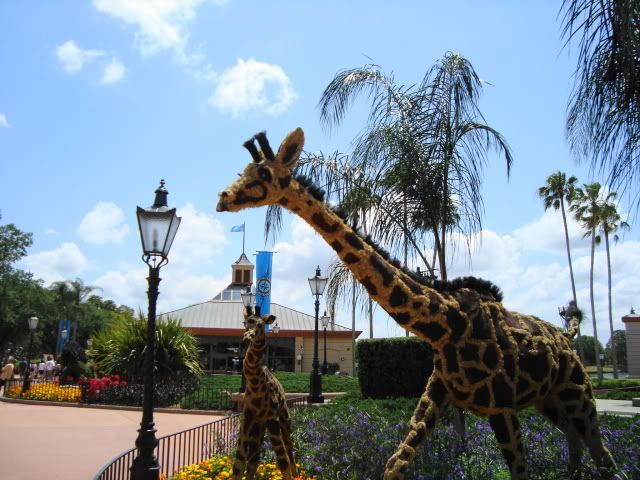 The flower topiaries were gorgeous.  Or are they called sculptures?  Either way, they rocked.
We made our way through Mexico, and then stopped in China for some egg rolls. 
At this point we were little puddles, so I *gasp* got a coke for us.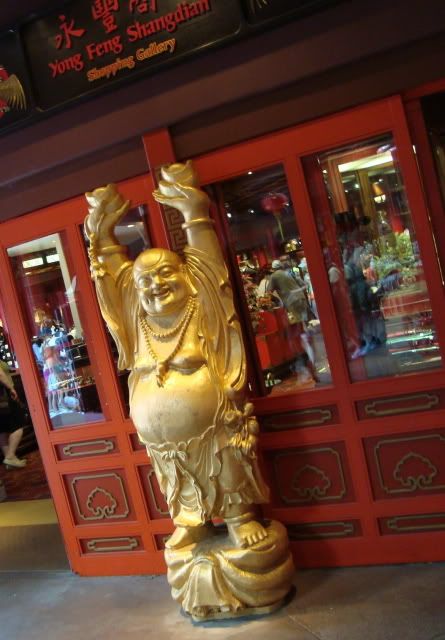 China was cool.  Buddha was cool, too. 
The dragon....yep, cool.
The birthday girl?  Not so cool.  She was melting quickly.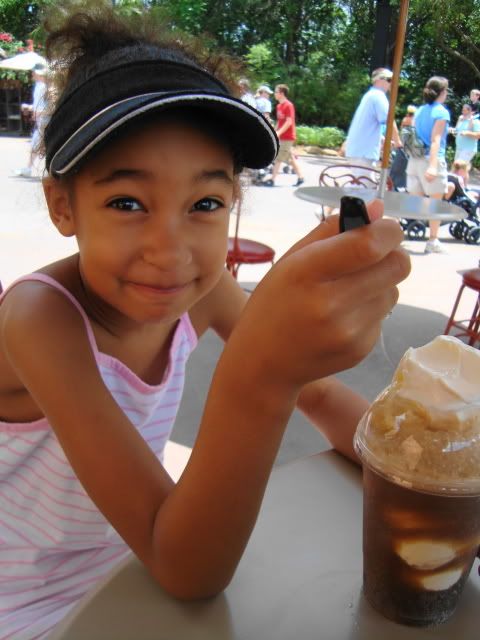 Nothing that a rootbeer float can't fix, right?!  I can't begin to tell you how badly we ate that day.  No one will ever know.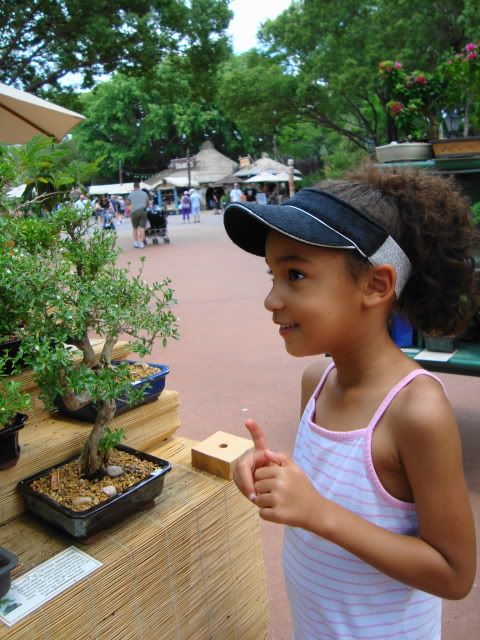 Kali wanted to take all the little trees home with her.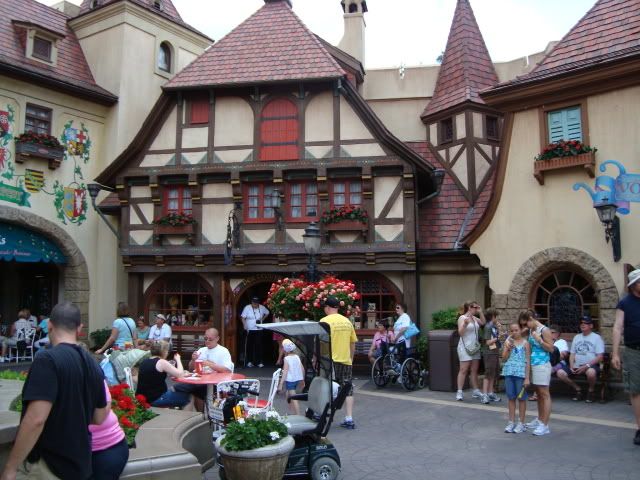 Then we went to Germany.  Kali said she couldn't eat a thing from here since she was still too stuffed.
Check out Lady. 
And Tramp.
Then we headed off to Japan.  This was Kali's favorite country that day.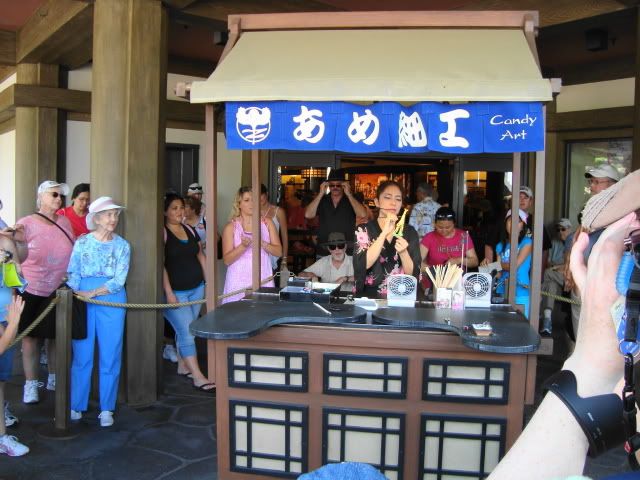 There is a woman there that makes candy from sugar.  Intricate designs; it was freaky.  She is only one of 4 people in the world that does this and she is the only woman. 
I could not get a good picture of what she was doing, but it was incredible.  Kali would have stayed there all day watching if the woman would have been there that whole time. 
Melting in Morocco.
Hanging out in France.  We HAD to get some pastries while we were there.  Kali decided she liked mine more than she liked hers so we switched. 
Why don't my herbs look this darn good?!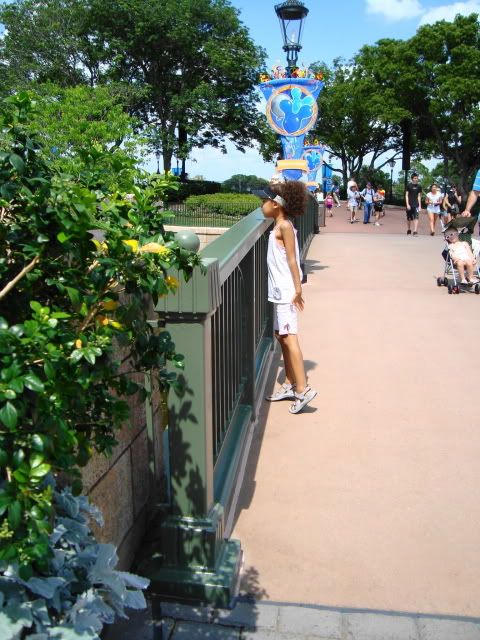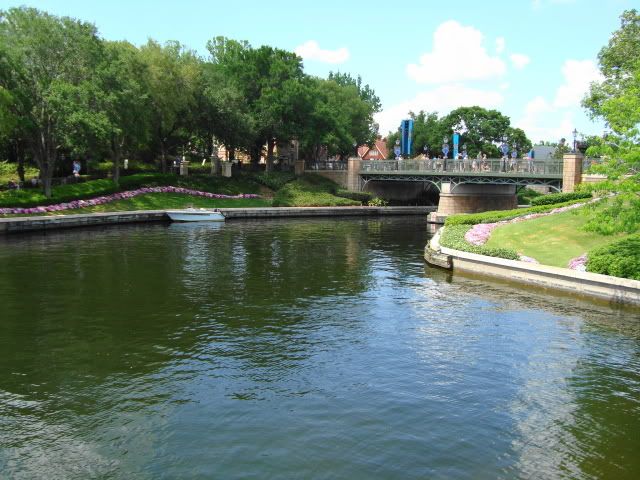 This is what she was looking at on the bridge.  She told me to take a picture because it was so pretty.
Awwww....this is my favorite one.  I love Mickey.  By the time I took this picture, we had been on tons of rides (I think Sorin was on her top 2 list, but Spaceship Earth won the top spot), ate tons of food, and Kali was ready to go do something else.  I was ready to stay there all day, but the birthday girl had other ideas. 
She wanted to get on the monorail and go to any resort for dinner.  Hmmm.....okay!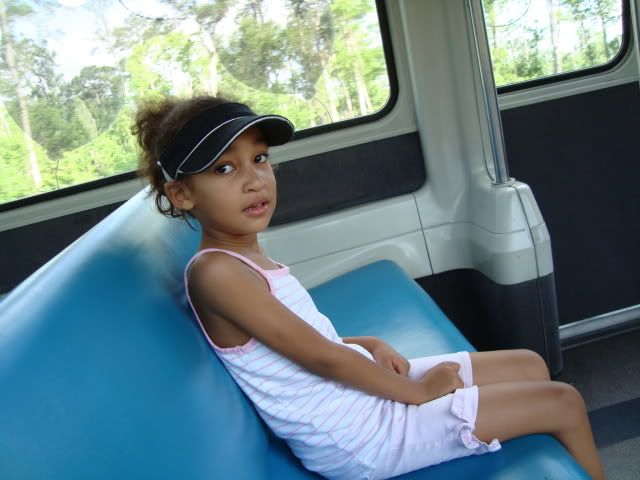 So we got on the monorail and headed off to The Contemporary Resort.
Where Miss I'm Six decided she wanted chicken nuggets.  Chicken nuggets?  On your birthday?  Okay, dear!
I had some yummy flatbread "thing" with beef, tomatoes, goat cheese, onions, and arugula.  It was goooooooood.
We got back to the hotel around 7:30, hung out with everyone, and passed out around 10:00.  Alex had been at Sea World with Mary and Hannah for a while that day.  There's a new rollercoaster there that hasn't officially opened yet, but they had it open for a few hours.  Of course, Hannah was soooo ready to go on it and bribed Mary.  It's called Manta.  And if you don't know about it, you literally "fly" on this one.  The strap you in, lay you down, and you fly.  Go check it out on their website.  Mary's still recovering from it; Hannah wants go to on again NOW. 
I woke up at 5:00 the next morning determined to get my run in.  I ran in the dark all along Downtown Disney's sidewalks while the workers were busy loading stuff in for the day.  It was really neat to watch them working and to see how quiet it was there.  Did I mention that it was already freakin' hot at 5:30?  And my legs were already tired from the day before?  I only eeked out about 2.5 miles that morning, but it was so nice even though I was so tired.  Today I slept in, tomorrow I'll be back out there trying to crank out another 4 miles.  I can do it.
This is what I saw when I got back to the room.  Everyone else was still snoring.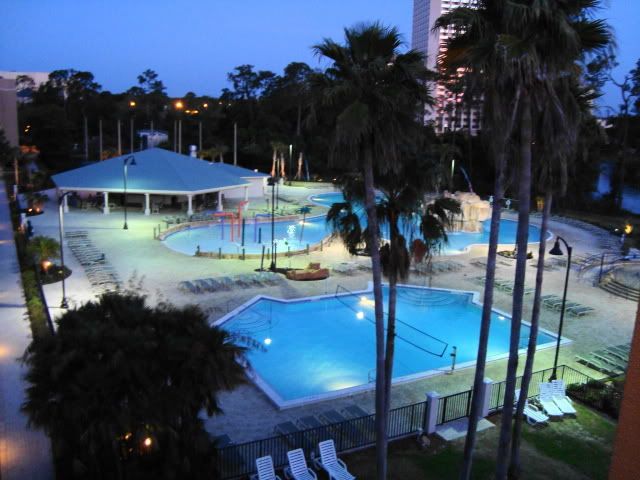 The pool was quiet.
We went down to the pool around 8:30.  The water was still chilly.  The kids area at the pool was great!
Did you expect anything else?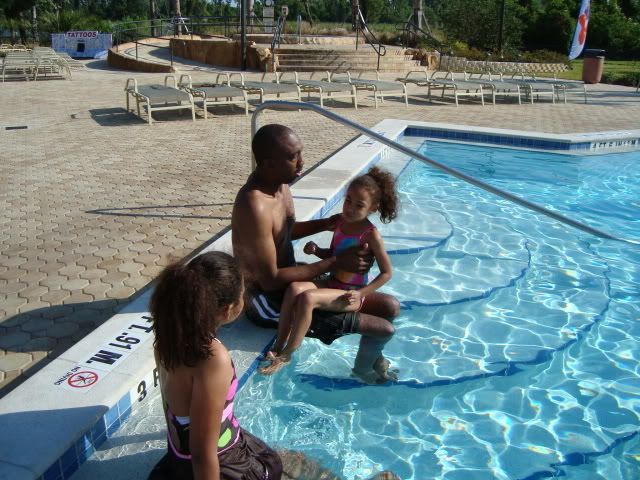 Hanging out at the other pool; it was smaller and it was warmer. 
We swam for a while, then headed back to the room so we could clean up and check out.  Mary told Kali that she'd take her to Downtown Disney so Kali could pick out her birthday gift. 
We hopped in the van and headed over.  Someone thought she needed a donut.....
I think she wore the donut.
It was probably 92 again when we were there.  Alex took a few pictures of me and the girls before we melted.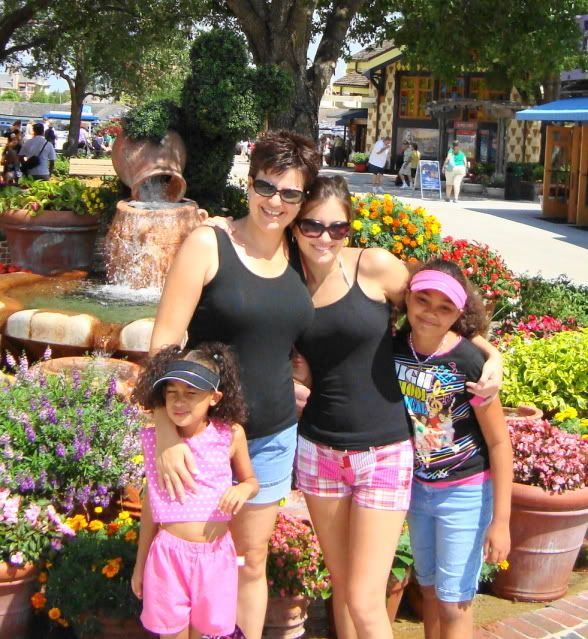 and if that one is a bit blurry, here's another one.....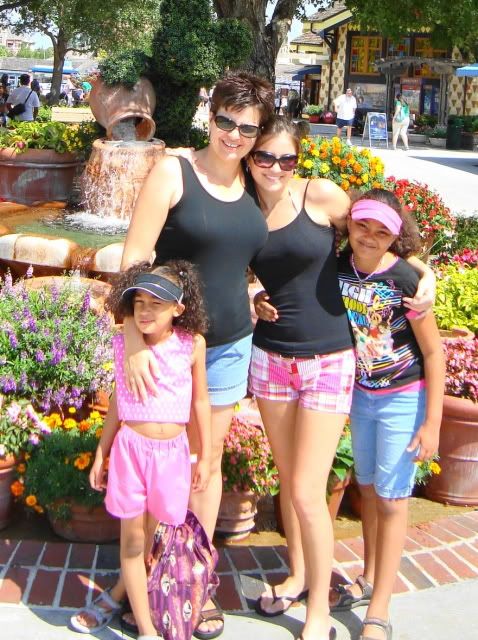 Now were are home, and tired!! 
Hope you enjoyed our pictures!