I have this really cool spice rack that my dad made me.  I decided it needed to be reorganized after my mom had a field day in Penzy's (thank you mom!) and I found a killer deal at Publix.
Wanna see my rack?!  ;)
Don't ask me why I still have that food coloring up there.  I really should just toss the stuff out.  Kali can't have food dyes so I never use them.  I did see that King Arthur Flour has a line of all natural food dyes; I may have to try those out one day.  I LOVE, LOVE, LOVE my spices from Penzy's.  Their stuff rocks. 
That 4/S smokey season salt is DA BOMB.  It's really yummy on popcorn, too.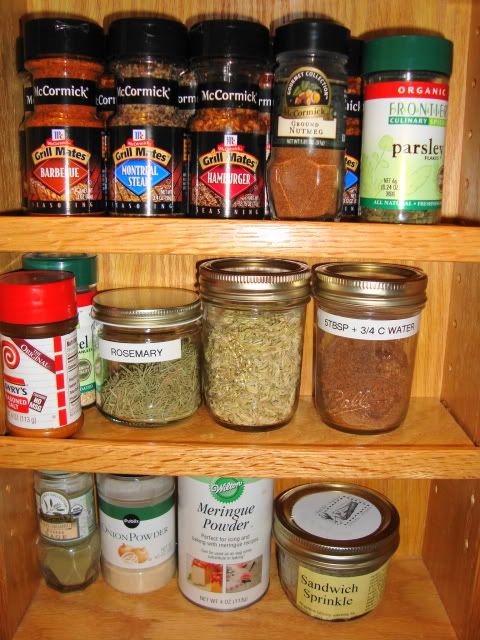 See all those grillmate spices?  Got 'em all for free at Publix this week.  They're on buy one/get one free, I had coupons for them all, which made them -.01 for me.  I got paid a penny each to take them out of the store. 
Of course, then there's the 'bulk spice' section of my pantry......
There's chili powder, cinnamon, sesame seeds, cumin, rosemary, oregano, garlic powder, and some other stuff on that shelf.
Then there's the fennel seed and paprika.  I make my own italian sausage, so I need lots of fennel seed.  At least I know what's going into my sausage and it isn't a bunch of chemicals or other weird crap.
And then there's the menu:
I keep meaning to change the picture on the right side of the blog, but I never quite get around to it.  I'm going to do it this way now and get rid of the little picture.  So stop looking for it there!  ;)
Yes, Alex's birthday is on Monday.  HAPPY BIRTHDAY HONEY!!!!  He'll be 40-something.  I'll never tell.  Well, unless you ask, and then I might.  Hopefully he'll have a very enjoyable birthday.  I shall spoil him with food and whatever else he wants.