Alrighty, bef
ore I update y'all on my fabulous shopping lately, here's more food for you.
Somehow, Alex got a but up his hiney last night and decided not only to make peanut butter cookies, but oatmeal raisin cookies, too. And these aren't any ordinary oatmeal raisin cookies, either. When they're baking, the whole house smells like fall. Ahhhhhhhh.......cookies!
Here's happy Kali helping daddy mix up a batch of cookies.
Don't you just want to eat her up?!?!
Hannah's on a math kick lately and had asked me to print her up some math problems to do while they mixed up the cookies. Hey, no problem!
She only missed one. :)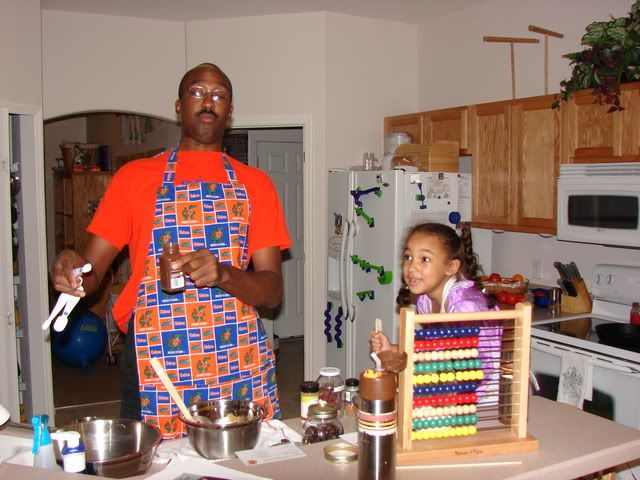 And here's Alex giving me yet another goofy look. I swear he doesn't always look like that!
And now for my shopping.....can I just say how much I looooove the Grocery Game?!
www.thegrocerygame.com
It took a while for me to figure it all out, but now that I get it, wow! My grocery bill is shrinking and my stockpiles are growing. I know that I could save more money if we ate differently, but there are some things that I won't change. If you want to save on your grocery bill, check it out. If you have any questions, send me an email ( aljamahaka@tampabay.rr.com ). And if you like it enough to sign up, please say that I referred you so I can get some free weeks on it.
Last week I went to Walgreens to pick up a few things that were on "the list." If I remember right, I got some razors, some cereal, some laundry detergent, some candles, hair stuff, etc., etc. I swear I had a cart full of stuff. Had I paid full price, it would have been $88.54. After sales and coupons, I paid.....drumroll please..................$14.48. Yes.
Then I stopped at Target a few days later to stock up on Electrasol (did y'all see that coupon in the paper last week?! I ended up getting 6 more papers. Yes, 6. Paid for it in just over one coupon on one item.) Anyways......Publix.
Shelf price - $49.15
OOP Price - $14.65 People were staring at me - in a good way. ;)
Stopped off at Publix yesterday (that's a whole 'nother story) for a few things.
Shelf - $62.46
OOP - $28.15
I'm rockin' the sales thing, stocking up on stuff we use, and saving a boatload of cash. Seriously. So far this month, I've save 46%, and that's with my co-op stuff. Without my co-op, my savings percentage would go way up.
Here's a few more from last week:
CVS - Shelf $19.33 OOP - $4.76, plus I have $5 in Extra Care Bucks to use off my next purchase (probably tomorrow).
SweetBay - Shelf $6.66 (oooooh!!) OOP - $0.87 Yes, 87 cents. The checker was shocked.
Sure, I run into a few more stores, but I'm out anyways and not making daily runs to the store for this. So it takes me a little time and effort. I'm saving TONS of cash. As Hannah puts it - you ought to come see the "Museum of Stuff."
Tomorrow's shopping ought to be fun!