Or at least look as cute and sleepy as Kali did.....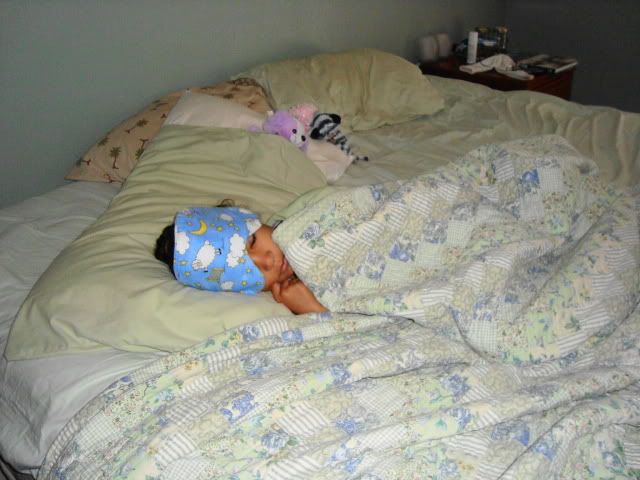 She decided that this was the best way to start her Sunday morning - in our bed with a sleeping mask on. 
All of my little seedlings are now living in their own homes.  The girls and I finished moving them today.  I'm not sure what ended up with more dirt - the plants, the floor, or the girls.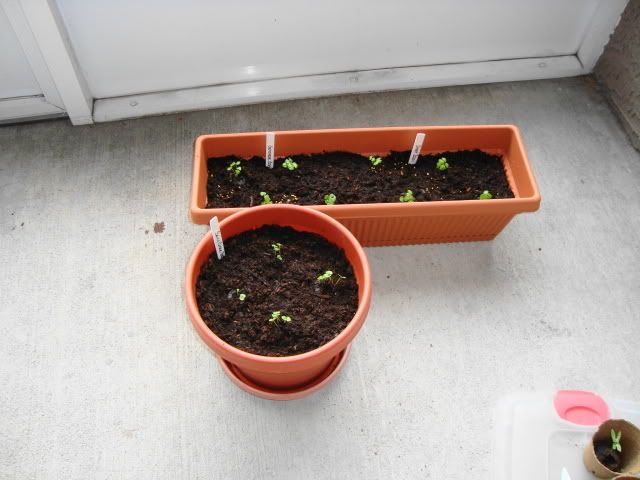 Some didn't get in the pictures yet.  :)  Keep your fingers crossed that my 'black thumb' doesn't kill them any time soon.
I realize that I haven't blogged about any great shopping deals lately.  Oops!  I ended up going to CVS and Walgreens this morning.  This is what I came home with......
Here's what I got:
Walgreens:
1 Thermacare Heatwrap
6 Lysol Wipes (sure, chemicals....I know, I know.  But some days I'm so busy, it's easier for me.  Plus I don't let the girls run around behind me and lick stuff.)
2 Ajax Dish Soaps
1 Garnier Fructis conditioner
1 Bic Soliel 4ct Razors
2 Revlon Creme Lipgloss
Total before sales: $57.19
Total after sales/coupons/and the $10 on my rebate card from January:  $14.05!!!!  Plus I'll get another $17 on my rebate card next month.
CVS:
3 Suave Cucumber Melon Body Wash
2 Colgate Total toothpaste
5 Gillette Shampoos
2 Gillette Venus Razors
2 Neutrogena Sunblock Sticks
6 Stayfree 'damnit I hate my period' packs of women's 'stuff'
Total Before sales:  $111.66.  Holy hell!
Total After sales, coupons, etc.: $56.51
Amount of Extra Care Bucks I have to use next time I shop: $46.00
I had rolled my "ECB's" for as long as possible, which was about 3 months.  So I went again today to buy more stuff (that we'll use) and get as many ECB's as I could.  Next time I shop, I can buy $46 worth of stuff and not pay a dime.  Plus, I'll buy stuff (that we'll use) that will give me more ECB's and roll them as long as possible again.
That's the end of my shopping update. 
I have some garlic herb bread rising in the kitchen to go with our pasta and meatballs tonight.  Yummy.  Though right now I'd love nothing more than a nap.  Hmmmmm.....