And I'm proud of it!  Thanks to my coupon connection (thank you, Vanessa!!!!) I ran back to Publix today to take advantage of a fabulous deal.  A few weeks ago there was a buy one/get one coupon for Wheat Thin Artisan Crackers.  This week they were on sale at Publix.  Buy one/Get one.  Yep, see where this is going?  Vanessa gave me 6 coupons this morning and I found a mis-filed one in my binder, so now I had 7.  She also gave me another Kraft dressing coupon, so I took advantage of that, too.  Publix "only" had 14 boxes of Artisan crackers left on the shelf.  I took them all.  14 boxes.  And 2 bottles of Kraft dressing. 
Want to know my total?  I bet you do!  Remember, I had
14 - Boxes of Wheat Thin Artisan Cheese Crackers
2 - Bottles of Kraft Dressing - and -
1 - $1 donation to the March of Dimes
for a Grand Total of - $2.45.  Yes, two dollars and fourty-five cents.  That was with the added dollar to the March of Dimes.  I saved $43.51.  Holy cow.
Here's a picture for you: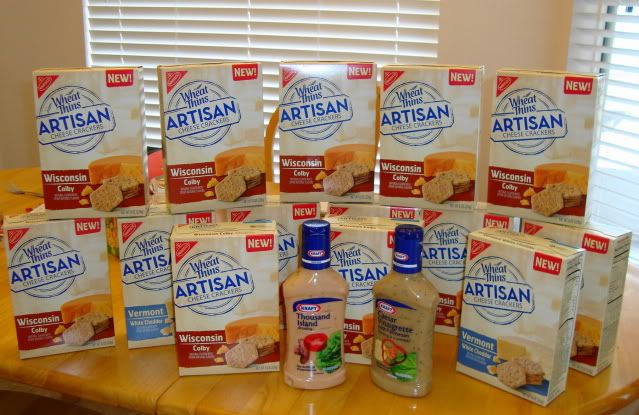 Alex was laughing when I told him how much I paid.  My favorite cashier happened to be bagging my stuff; she was dumbfounded.  The cashier was speechless.  I was laughing.  Crackers, anyone?!
The menu has been updated, though it's fairly incomplete this week.  We're on Spring Break (yay!) and I'm hoping we're out a lot, which will leave me figuring out what we're going to eat on a day-to-day basis, depending upon what we're doing. 
Kali picked some leaves and a flowering weed for me the other day.  :) 
Aren't they pretty?
Tomorrow is Easter and I'm sure Mr. Bunny will stop by during his travels.  My eggs are boiling now and we'll color them after Mary gets home from work tonight. 
Don't forget - my Florida friends - Sweet Bay has a spend $25/get $10 coupon tomorrow only!  I need flour, so I'll pick that up there.  Gee, this week is not a normal one shopping trip week, is it?!  Crazy.  Next week will be back to normal. 
Okay, I need a snack....off to have some crackers.  ;)