We're baaaaaaaack!!! Before I begin, I'm warning you there will be TONS of pictures, so settle in, get a cup o' coffee, and let the viewing begin. :)
Mary
and I left yesterday for Disney. We got to Pop Century, our hotel,
around noon, checked in, and lugged all our stuff up to the 3rd floor.
Why are we always on the upper floors?!
As we got to the front of the hotel before we checked in, this is what we saw....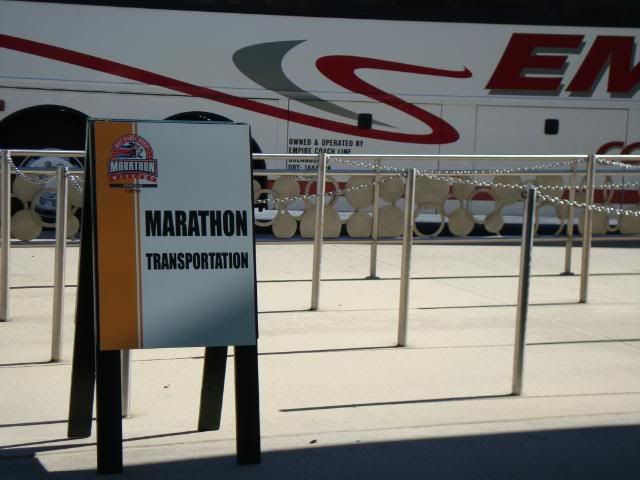 I suddenly got very excited and super nervous.
This is what happened after we got to our room.......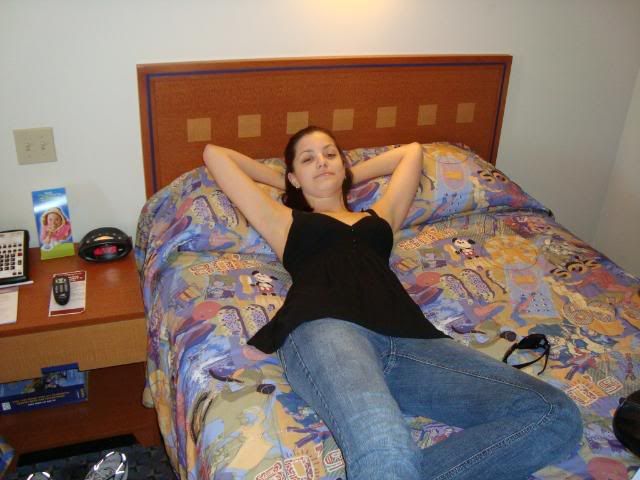 We had our sandwiches and decided it was time to head out to Wide World of Sports for the expo and to pick up our packets.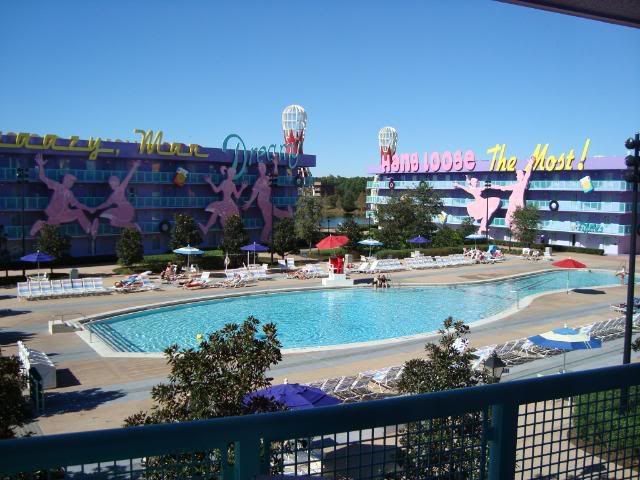 This was our view from our room.  Nice!!!
We hopped on a bus and went to the expo...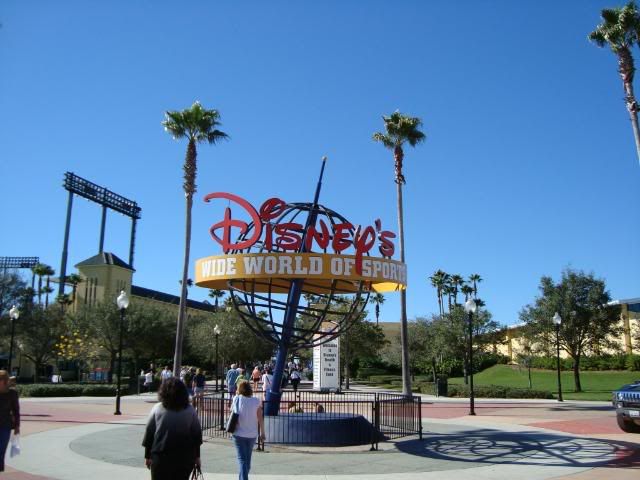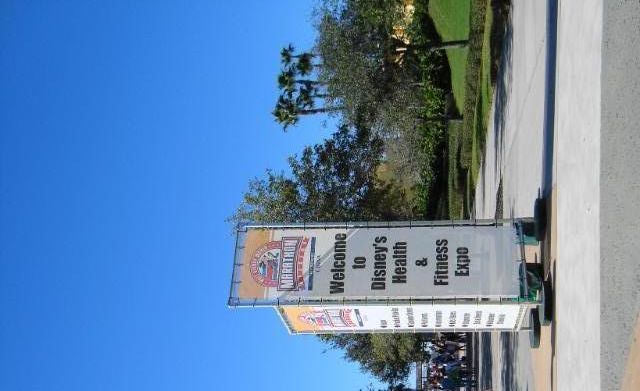 When we got there, there were two entrances to get in.  One of the workers told us, "Volunteers to the right, Runners to the left."  I thought "holy hell, I have to go LEFT!!"  It was strange.  I got a bit more nervous at that point.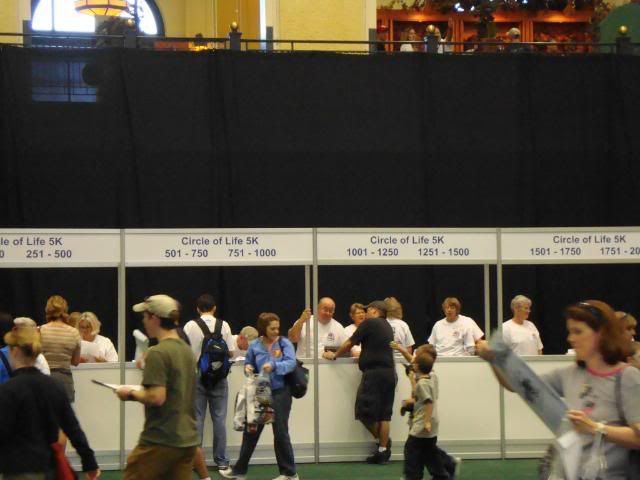 We picked up our packets here. 
I kept looking at everyone and trying to figure out which race they were running.  After a while, I realized that was pointless.  ;)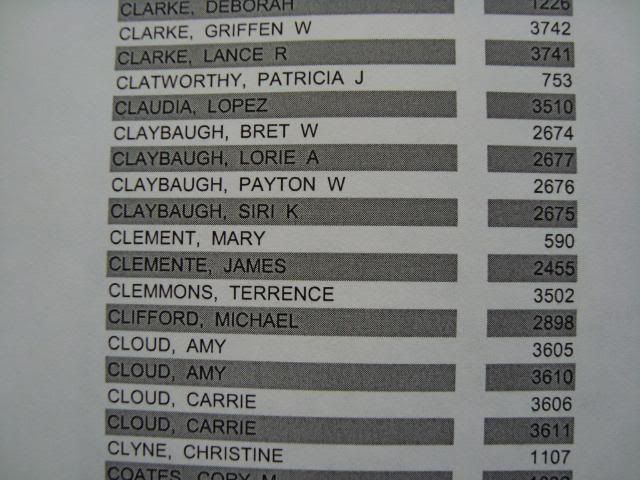 We found our names on the board, too!  That was cool.
We went back to the room and checked out our stuff.  Here's our bibs for the race. 
And here's our pin that we got.  :)  I was almost afraid to wear it before the race!
We had no clue where to eat last night; nothing was sounding good and I didn't feel like driving anywhere.  We ended up at Planet Hollywood.  I had a yummy grilled chicken sandwich and Mary had a burger.
We headed back to the room after dinner so we could relax, get our jammies on, and watch some of the Gator BCS bowl game.  GO GATORS!!!!
I was a good girl (ha ha ha) and watched about 20 minutes of the game, threw on my little eye shade things, listened for a few more plays, and was sound asleep before 9:00.  Mary, on the other hand, watched the entire game.  When I woke up, the first thing I did was check to see who won the game.
GATORS RULE!!!!  I was thrilled to see that they won.
I got up at 4:00, but had to do a few things before I whipped out the camera. 
Mary wasn't as eager to wake up as I was. 
We were dressed and watching game replays by this time. 
See!  Final score - 24 to 14 Gators.  The hotel had blue and orange balloons tied all over before the game.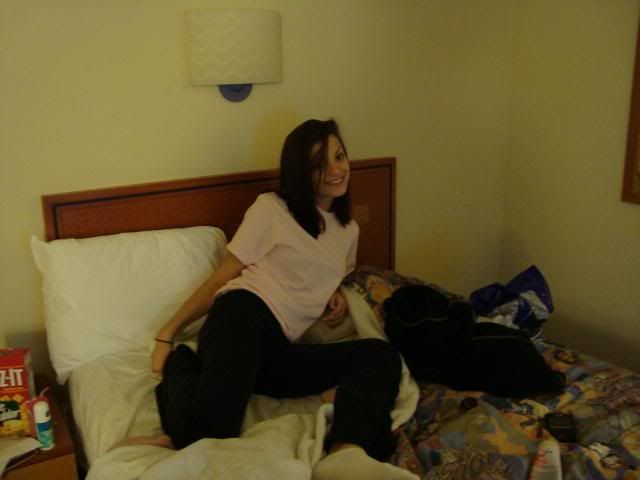 Mary called this the lazy girl stretch. 
Check out the smoke over the pool.  This was about 5:15 in the morning.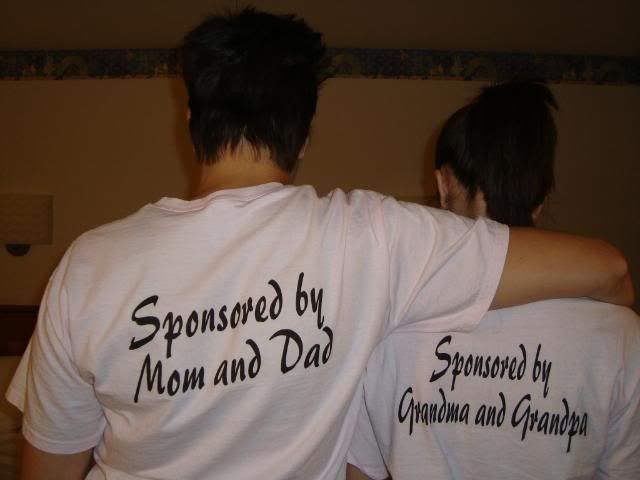 I set the timer on the camera to get this shot.  My parents had shirts made for me and Mary.  It was too cold not to have our jackets on, so I had to make sure to get a picture of them somehow!
All ready to go!  By this time I think I was a nervous wreck.
Finally!  We arrived at Animal Kingdom.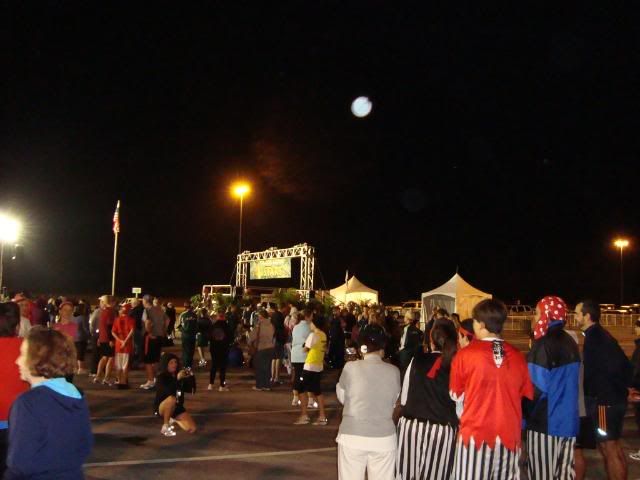 There were sooooo many people there!  Tons more people came after I took this picture.  I had to check my bag with my camera in it, so I didn't get a picture of the full crowd.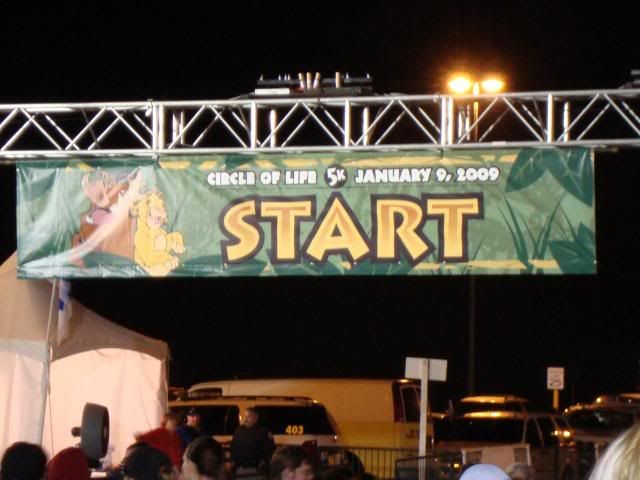 Check it out!!!!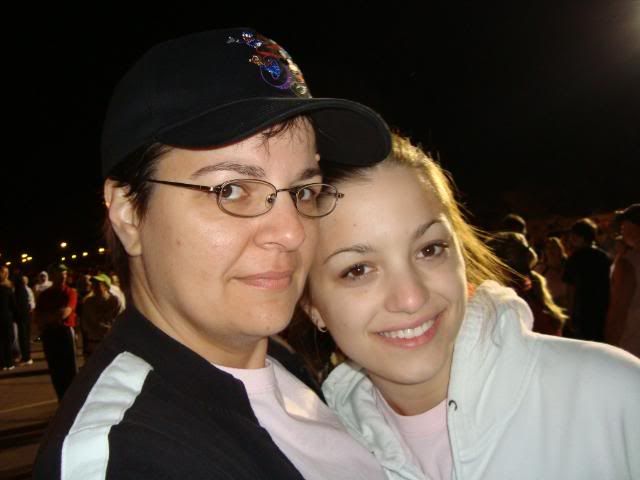 I am not very photogenic at 6:20 in the morning.  I promise I usually look better than this.  Oh hell, at least I hope I do!!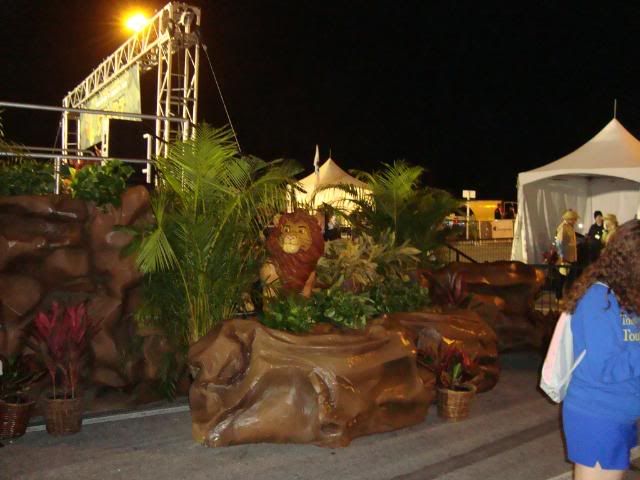 This was by the big stage they had set up.
I had to stop taking pictures at this point, so I'll have to tell you the rest in a story.  The crowd was huge, the energy was wonderful, and the music was fabulous.  They had The Lion King music playing the whole time.  Timon and Rafiki were up on the stage, and men on stilts were walking around the parking lot.  We all lined up in our appropriate places and started getting ready.  The wheelchair racers went first, and as we counted them down, a few fireworks went off.  OMG, I was positively giddy. 
Mary and I had hoped to walk half and then run (please note that we say "run" but we mean slow-ass jog.  It's still running to us) the other half.  Mary said we should start out running, then walk, and run the end; I figured that sounded pretty darn good. 
The race officially started and we finally got to the start line - yay!!  We started running and trying to check out everything that was going on.  It was sooooo incredible to see the amount of people that were there with us.  There were little kids running with their parents, friends running together, and people that (according to their shirts, signs, etc) were there working on their health.  People were running, jogging, walking, and lots of them were singing The Lion King songs.  It was awesome! 
By the time we got to the entrance of the park, we were at Mile 1.  I felt great, Mary felt great, so we decided to keep on running.  It was incredible to see the park while it was empty.  Workers were lined up along the route to cheer everyone on.  Some guy kept chanting that he wasn't going to be driven to the end in a golf cart; I told him he took my line. 
We got to the first water stop and realized we were at mile 1.5.  Mary needed to tie her shoe, so she stopped off to the side and I told her I was going to keep on going.  I slowed wayyyyyyyy down so she could catch back up to me.  We went around the big turn and we saw Mile 2!!!  Holy cow, we were still running!!!  We passed the 2nd water stop, I grabbed a cup as I went by, took a sip, and tossed the cup in the garbage without missing a beat.  All along we were talking to people and laughing.  Dang, I was fairly amazed at this point. 
We ran past Mt. Everest, through Africa, and a bunch of other places I cannot remember at this point.  It was incredible.  I kept looking out for the photographers and hoping they would get a halfway decent picture; I'll find out when they post them in a few days.
We knew we were getting close to the end and there was no way in hell either of us was going to stop at this point.  We saw Mile 3 and knew there was just .10 of a mile left to go.  OMG!!!!!  And there it was - the Finish Line.  I grabbed Mary's hand and we ran the last little bit together, smiling for the photographer (and ourselves) and we crossed the finish line with our hands up in the air!
We did it!  We RAN the ENTIRE FREAKIN' THING!!!!  I'm not sure when I've ever been more excited with myself about something I've done.  Okay, sure, there's the whole birthing kids thing, but that's painful!!  And yes, there's the whole wedding thing, but I knew I could do that.  ;)  But this.  This was different.  This is something I didn't think I'd be able to do, and a few months ago, there was no way in hell I'd be able to do it.  Heck, running from one light pole to the next was a major accomplishment!!!  But I ran 3.1 miles this morning, with Mary, in Animal Kingdom, while the sun was coming up.  I'm not sure it gets any better than that. 
I now understand the whole runners high thing.  It's amazing.  I'm hooked - totally - and want to do another one NOW!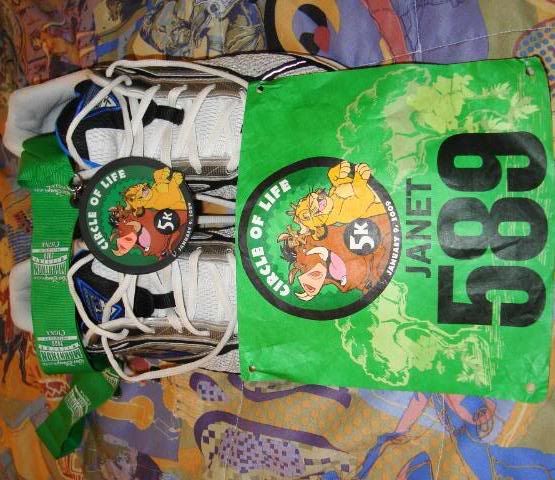 Here's my medal, my bib, and my lovely shoes. 
And here's Mary's. 
The obligatory together shot.  :)
After the race, they had fruit, muffins, and water for everyone.  I grabbed some water and a banana before we headed back on the bus.  When we got back, I got a cup of coffee, went to the room, and sat down for a few!  We showered, dressed, and packed our stuff up.  By this time we were starving, so we left and headed off to Cracker Barrel.  I think we ate out the entire place in about 2.5 seconds.  Seriously. 
We drove home, completely satisfied with ourselves and saying how we couldn't wait to take a nap!  We got home, I talked to Hannah and Kali for a bit, showed them our stuff, and then snuggled in the bed with them.  I woke up 3 hours later. 
So here I am, finished with my blog update now.  I am beyond thrilled with our results.  It was so much more than I expected it would be.  I can't wait to do another one!!!!!!  And I'm really hoping to do this one again next year, and every year after that, with Mary.