Finally - I found a moment to sit here, upload a ton of pictures, and do a blog update.  :)  I kept putting it off and running out of time, but I figured I better get it done before I'm overloaded with stuff and pictures. 
First off - there's a new menu up for the week.  I didn't follow last weeks' menu completely; it helps if you take the turkey out of the freezer so it can defrost.  Oh my.  Maybe this week?!
Speaking of cooking - Hannah made dinner last week.  Here's a picture of Chef Hannah:
She's such a nut. 
Last Thursday I took all of the girls to Busch Gardens.  Here's a few pictures for y'all.
Mary and Hannah went on this.  I think they're crazy.  Hannah loved it!
Kali and I stayed firmly on the ground. 
How did my kids get so freakin' big?!?!  Seriously, people, this is crazy.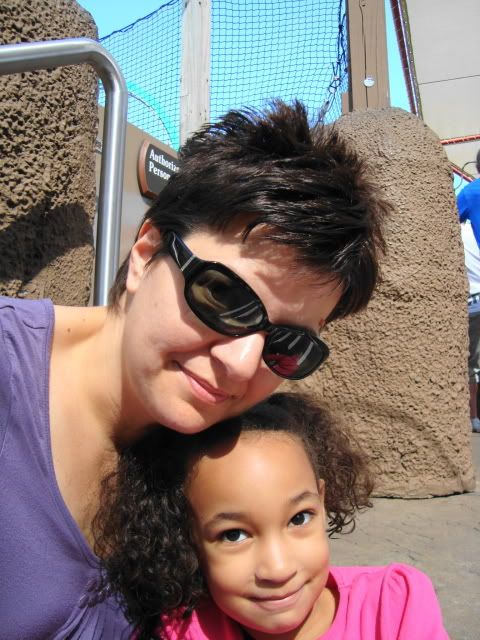 Look!  I do exist!!  I did my best to get a picture of me and Kali while we were waiting on the other two.  :)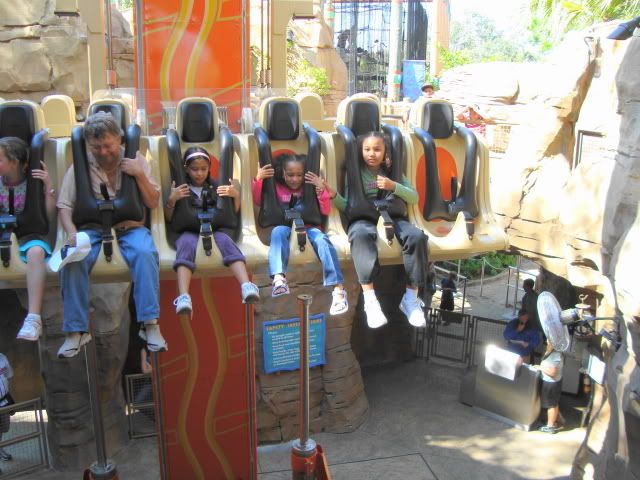 Kali really wanted to go on this again.  Now look at her face.  Does it scream "let me back on this ride!" or "get me the hell off of this ride!" 
Mmmmmm......ice cream.  :)
So yesterday, we decided to head out to Sea World for the day.  I LOVE having passes!!!!  I think it was my favorite Christmas gift this year.  I must mention that we went to Sea World on the last Bud & BBQ Day.  It wasn't my intention to go there for that, it just happen to be going on while we were there.  For those of you that don't know what Bud & BBQ is, let me give you the cliff notes version.....  Bud & BBQ is when every freakin' Florida redneck in a pickup truck that has a confederate flag sticker on the back goes to Sea World.  They go there for the all-you-can-eat beige food buffet and country music. Most of the people in the all-you-can-eat buffet line are sitting in scooters because they are so overly obese that they cannot walk.  Hmmmmm...makes you think.  And a lot of women are wearing bathing suits and spandex pants.  Seriously.  The whole day was so entertaining.  Though I was disappointed because I didn't see that many mullets!  I felt like I had been dropped off on some freaky planet.  The rides had no wait, since most everyone was downing as much Budwiser as they could and still try to scoot off in a straight line. 
We spent a grand total of $9 plus gas yesterday.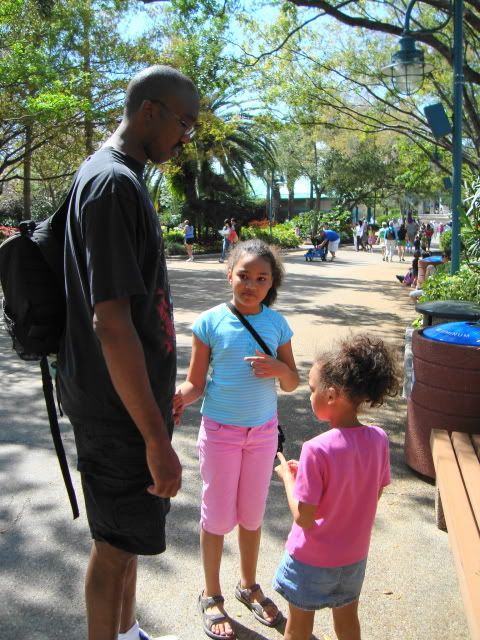 See the cute little ducks??  Look really closely at the sign there.......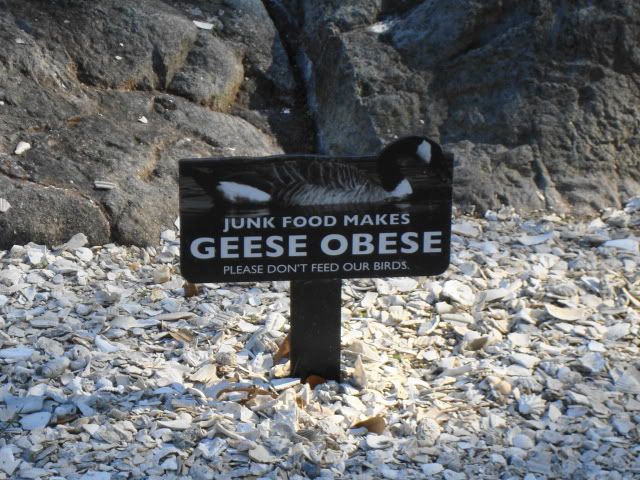 Seriously.   This sign was there.  We were hysterical.
We left Sea World around 4:30 and decided to take a short ride over to my favorite place - Downtown Disney!!!  We made our subs, ate our dinner, and then walked around for a while. 
Think they'd let me move in?? 
Sat down and had a lovely cup of coffee.  Hey, dad, you missed yours!!!!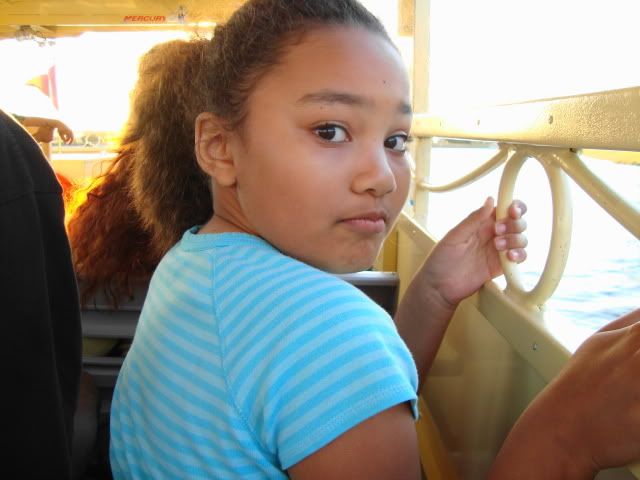 Then we hopped on the boat by the Rainforest Cafe to go to the other side by the House of Blues.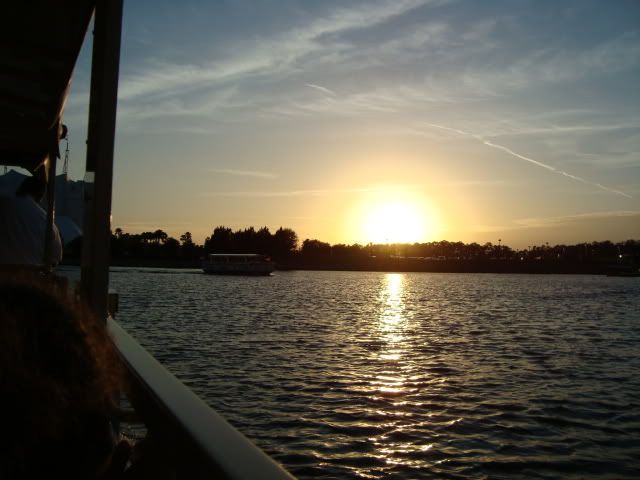 The sun was just starting to set.
You know, someday I think I'd love to get a dSLR camera.  If you can't tell, I LOVE taking pictures, but I LOVE taking good pictures and I think a dSLR would rock.  I might never put the camera down again.
Awwww...check out my hunky husband.  :) 
He kept calling me a tourist since I wouldn't stop taking pictures.  It's not like I already have 10,000 of them from here.  See, someone send me a dSLR, please.  I'll take really good care of it for you.
Did you know that all of the clubs in Pleasure Island are closed?  Yep.  They're making new restaurants and shops in there now.  There's a new shop in Downtown Disney where you can create your own t-shirts.  The girls want to bring their money next time and get one. 
We left there around 7:00, stopped for some ice cream (and with my coffee, was our whole $9 total for the day) and went home.  We had lots of fun and happily slept in this morning. 
Lets not forget now, it's March 1st and the beginning of Pantry Challenge month.  Who's with me?  The goal is to shop only in the perimeter of the grocery store and use up what you have at home.  I do have co-op pick up next weekend, but that order was put in a few weeks ago.  I'm waiting to see how creative I get.   Right now there's a pot of chili simmering on the stove.  Mmmmmmm. 
I managed to bring the grocery bill wayyyy down in February; my total spent was 688.69, and my savings was 317.20, which was 32%.  Lets see what I can do this month.
I've got most of the girls school books for next year already.  I'd love to go to the convention again this year, but that's just not going to happen; there are other things that are more important right now.  Kali is 2 lessons away from finishing math, and Hannah's not far behind her.  I'm going to change things to a more year-round schedule with more frequent breaks.  Summer is hot as hell down here and besides having Busch Gardens and Sea World passes, we don't do a whole lot outside since we'd melt.  I figured if we did our school work over the summer, we'd have more time to take off when it's cooler out and then we can enjoy more stuff while everyone else is back in school. 
I'm off to stir the pot of chili.  Hope everyone is enjoying their weekend!